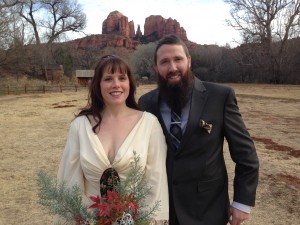 Alissa and Kyle traveled from Minnesota for their elopement wedding in Sedona, at Crescent Moon Ranch (aka Red Rock Crossing).
It was the winter solstice, but a pretty mild day for a Sedona winter. The photographer, Andrew Holman, was very happy with the day, because the light overcast sky created the kind of soft light that only clouds can create.
We performed the ceremony with iconic Cathedral Rock in the background. That backdrop is one of the main reasons that couples love to get married at Red Rock Crossing. Also, one of my jobs as a Sedona wedding officiant, I believe, is to let couples who are getting married here know the Yavapai Apache myth about the twin spires in the middle of Cathedral Rock. According to that nation, the twin spires represent First Woman and First Man. They are standing back to back, facing outward into the world. So, it certainly seems auspicious to me for couples to be married there!
Alissa and Kyle stayed at Boots and Saddles bed and breakfast, and said that the proprietors were super helpful. One of them even did Alissa's hair! Also, since they had not arranged for formal flowers, they were told they could simply go out into the back yard of the B&B and pick whatever they found. Alissa made a lovely rustic bouquet out of local plants.