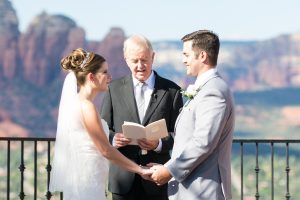 As a Sedona wedding officiant, I never get tired of officiating weddings at our many locations with awesome red rock views. One of the most spectacular of these is Sky Ranch Lodge, a hotel perched right on top of Airport Mesa.  A few years ago, they built a wedding deck and reception area with amazing views over the town, and across to Thunder Mountain.
Edith and Bret got married there, and it was a lovely wedding. Their (super-cute) dog, Gator, was the flower girl.  She was a really good dog, and looked even cuter than usual in her flower girl dress!
The period from mid September through October is prime wedding season here in Sedona – for good reason – the weather is usually wonderful here at that time  — warm days, and crisp, cool nights. The only slight downside to this time here is that it's also the height of tourist season, so traffic can be a little heavy at times.