One of the things I love about my "job" as a Sedona wedding officiant is the huge variety of people I get to work with — from all parts of the world.  Christian is an officer in the German Navy, and Jennifer, his bride, is from Phoenix.  They live in Germany, in a town on the Baltic.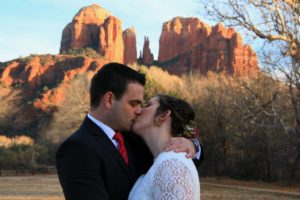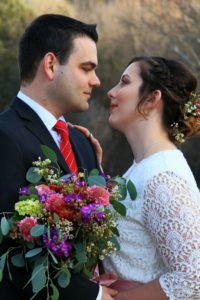 They got married just after Christmas, on a clear and sunny winter's day, in the shadow of the iconic Cathedral rock, at Crescent Moon Ranch (aka Red Rock Crossing).
We got to know each other via Skype, before they made the long journey from Germany to Sedona.  A digression — as an older guy, I still find things like Skype and FaceTime pretty amazing.  To me, and I'm guessing to others of my generation, it's still the stuff of science fiction.
They're lovely people, and they made a very handsome couple!  I've made them promise to get back in touch if and when they ever get back to Sedona.