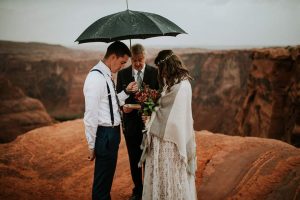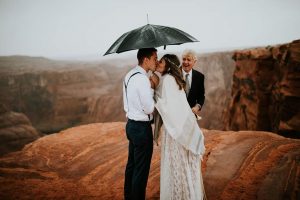 This was truly a wedding to remember.  When we got to the location, high above the Colorado River, it was just starting to rain, and the wind was picking up.  We all decided to go ahead anyway.
So, the ceremony was conducted in the midst of a rare, early Fall storm, with winds gusting to 50 mph, and pretty heavy rain.  Lindsay and Nate were troopers, and kept a really good positive attitude, even though it certainly wasn't what they had envisioned when they planned a wedding at Horseshoe Bend.
Now I can say I officiated a wedding at the top of a 1,500 cliff, in the middle of a rainstorm!
None of us can control the weather, so if it isn't quite what you have in mind for your wedding, it's best to practice "unconditional acceptance".  A good quality to have in life, in any case…
The weather in Northern Arizona is usually great in October (it's a beautiful day today) but we do have real weather here, too…