On the chilly Monday after Christmas, Pat and Ken exchanged their vows on the deck at Page Springs Cellars, overlooking Oak Creek. The winter sun warmed us as it shone over the rows of bare vines, while the creek played its ceaseless music below.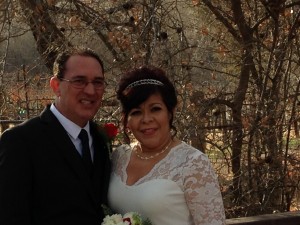 As a Sedona wedding officiant, I most often get asked to officiate weddings within view of Sedona's fabled red rocks. So, going out to Page Springs to conduct a wedding in a vineyard was something out of the ordinary for me.
Interestingly, both the bride's two sons, and the groom's eldest son, are all in the Marine Corps. They lent a formal air to the occasion in their crisp dress uniforms.