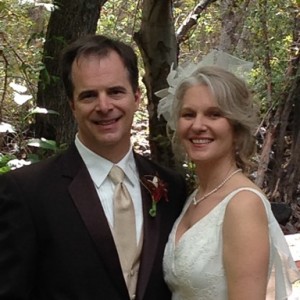 Sherri and Rob got married creekside at L'Auberge de Sedona resort, on a beautiful Fall Sunday.
As a Sedona wedding officiant, I hear a lot of really wonderful vows that couples make to each other. And, Rob and Sherri's vows were some of the most moving and heartfelt I've ever experienced.  I was so choked up after hearing them that I had to take a moment before I could continue with the rest of the ceremony!
Gingerbread, their dog (a Golden Retriever/Labrador mix) was the ring bearer, and she did an awesome job. She had a little trouble untying the rings from their little pillow, but a friend gave her a hand…
The creek was a beautiful background soundtrack to the ceremony, as were the trees just starting to show some Fall color. All in all, a beautiful wedding.
by Anthony Flesch, founder of SedonaMinister.org